News about Amstrad CPC, PCW, Notepad NC100 NC150 NC200, PDA600 and also Amstrad PC
The Real Sir Alan (Michael Sugar)
-
The Real Sir Alan is a 60 minute show by Fiona bruce shown on BBC Two (11th January 2009) and BBC One (24th January 2009). It cant be seen anymore with the BBC iPlayer, but it seems to be on Youtube :
Also for the 5th year in a row, The apprentice show with Alan Michael Sugar is on the waves.
And for the end, if you still dont have read Alan Michael Sugar biography, I recommend it personally, I did read it and liked it.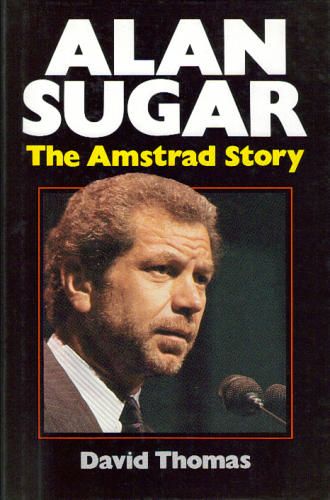 Wiituka, an Amstrad CPC emulator for the Nintendo Wii
-
Wiituka is a brand new Amstrad CPC emulator for the Nintendo Wii by D_Skywalk. It features :
a comfortable interface that tries to look like Virtual Console
online support for downloading games
CPC Gunstick Emulation
Next version will feature :
Redefine WiiMote Keys
Game List with Screenshots
Snapshot (and tape?) Support
Roms details, votes and much more!

Stelladaptator 2600 to USB interface
-
Seen on the comp.sys.amstrad.8bit newsgroup : the Stelladaptator allows the use of standard Atari 2600-compatible controllers, including joysticks (like the one used on Amstrad CPC), paddles, and driving controllers, with modern computers running Windows, Macintosh, or Linux operating systems. Any Atari 2600-compatible joystick, when plugged into your computer through the Stelladaptor will behave as a normal joystick. This allows the use of classic Atari controllers with any software that will work with an 8-direction digital joystick controller (left, right, up, down, and diagonals).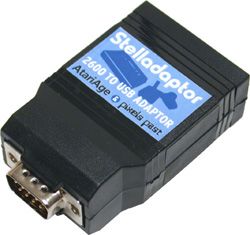 CPCGamesCD is a live CD by MiguelSky with emulators and the NVG Amstrad game collection. It has been updated :
Includes frontend, new CPC Loader 2.4 by Troels K.
Includes NVG games update 11.04.2009
Includes Snap-Pack by MiguelSky (3576 images)
Added new version 6.2 of JavaCPC emulator
Includes Linux version of CPCLoader 2.4 and emus update
Includes Maps folder of NVG and support for that
Includes Links to T.A.C.G.R.
217 Euros for a Super Pack Gun Stick (Ubi Soft) on Ebay. I hope the buyer will enjoy what he bought.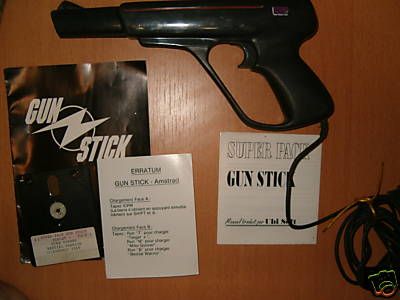 Amstrad expo 2009 meeting
-
The Amstrad expo 2009 meeting will take place from the 29th to the 31th May 2009 at the Espace Jeunes (F.J.T) in Coutances (50 - Normandie - France).
There will be 4 contests :
Demo : 3D theme
Demo : free theme
Games : free theme
Graphic : free theme
Cost for meeting, sleeping and eating :
Inscription given before 20th may 2009 : 8 Euros
Inscription after 20th may 2009 and directly on site : 10 Euros
Contact : eliot (at) cpcscene.com
a RSS flux to let you know when there is some news
-
As news doesnt appear as often as before, you now have a RSS flux to be informed when the site is updated.
2 Amstrad CPC meetings at once in Germany and France
-
Two meeting will take place at the same time from the 29th to the 31th May 2009 :
Happy Christmas 2008 and happy new year 2009 !
-
It's never too late, well I hope.
PSPCAP32 v1.4.3, an Amstrad CPC emulator for PSP by ZX-81
-
The Amstrad CPC emulator PSPCAP32 by ZX-81 has been updated :
Emulation speed (small improvements)
Improve file requester with virtual keyboard to choose sequentially rom files beginning with a given letter
Add documentation for settings in help menu
Castellum secretum meeting 3
-
You can go on the Castellum secretum 3 meeting site which will occur on friday the 31th October to sunday the 2th November 2008 at Segré (near Angers, 49). More informations on the web site (in french).
WinAPE v2.0 alpha 16, an Amstrad CPC emulator for windows
-
The Amstrad CPC emulator WinAPE offers a new floppy controller and drive emulation, CPC Symbol fonts and a stack of minor enhancements and bug fixes.
AmeDS v2.1, an Amstrad CPC emulator for the Nintendo DS
-
The Amstrad CPC emulator AmeDS v2.1 for Nintendo DS allows you to download Amstrad CPC games from the web, a nice new feature.